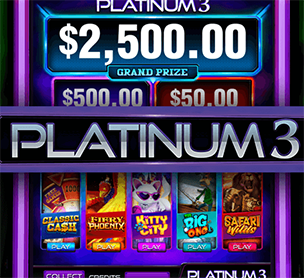 The Diamond Skill Games Platinum 3 is a multi-game board that is suitable for playing with multiple partners. Created by the Banilla games, it has remarkable outlook with VGA graphics. The machine comes in a 5-in-1 touchscreen based multi-gaming format.  It is totally fun and adventurous at the same time. Several levels to complete and compete against the fellow players that helps earn a lot of rewards and additional bonuses, too. The gaming device comes with an all 5 games combination. All the games are single line based similar to the nudge games. One can play, enjoy and compete at the same time with multiple partners, too. This game is enriched with remarkable features of a dual display screen that goes perfect with Pennsylvania's dual screen diamond platinum machine. The game includes 5 prime games, namely- Classic cash, Fiery Phoenix, Kitty City, Big one, Safari Wilds.
If you too are looking for some fun add-on with skill games for money for your place, this one can be a perfect addition for multi-player support. Enjoy a dual screen gaming device that is perfect to entertain and experience with a partner which makes it a suitable slot machine for restaurant. You can pace you space with such a marvellous piece of gaming world for your customers or clients while expanding your business, too.
Platinum 3 Skill Games – The standard has been raised for split-screen games by Platinum 3! Kitty in the City, Classic Cash, Safari Wilds, Fiery Phoenix, and everyone's new favorite, The Big One, are just a few of its five distinctive games. With thrilling bonus games and features, these traditional style nudging games guarantee all wins to be larger than or equal to the amount bet.
Product Description and Specification
Here is some information about the Diamond skill game Platinum 3 for the game lovers.
Games included in the game
Classic Cash
Fiery Phoenix
Kitty in the City
Safari Wilds
The Big One
Specifications
5 in 1 multigame
VGA Graphics
Reels or Shutters
Configurable Jackpots
Touchscreen Game
Works on Dual '23 or larger Monitors
Standard 36/10 Pin Cherry Master Harness
What are Skill Games?
Although skill games resemble slot machines in appearance and feel, their creators claim that unlike slot machines in casinos, these games do not solely rely on luck. Instead, in order to succeed and receive a payout, participants must possess a certain level of human skill or talent.
In Pennsylvania, skill games are increasingly popular in restaurants, taverns, convenience stores, and other businesses. However, they differ from casino slot machines in that they are not subject to the same strict regulations or high taxes.
They have become a target because of their status. Since the State Police consider skill games to be equivalent to unlawful gambling, the casino sector has complained that they are run with little to no financial or social accountability. Over the past three years, troopers have seized equipment from pubs and other locations, sparking a protracted legal battle. The Commonwealth Court of Pennsylvania is now deliberating a dispute involving the legality of skill games.
Why Choose Pennsylvania Skills?
We at Pennsylvania Skills offer a wide variety of Pennsylvania skill and diamond skill games for rental and sale all over the USA. Our machines are trusted by every arcade game lover in the country. Pinball machines for sale, Arcade games for lounge and restaurants, Slot machines for bars and lounge.  All our machines are legal. The gaming business is rapidly growing and we are trying to improve ourselves every day by taking any opinions from our clients.
We assist business owners by enabling them to install our reliable and secure gaming machines in their establishments and entice more and more customers, leading to extended innovations, tripled revenue, and bigger sales every month. So bid your standard business strategies farewell. Add one or more from our extensive selection of Banilla, Pennsylvania Skill Gaming, and Diamond Skill Gaming. Our games for restaurants will give your business a fun new twist. The owner of the business does not pay anything.
It is definitely a profitable decision to team up with us for the best quality gaming machines all over the USA that will be delivered to you in no time.